Yes, this one deserves extra exclamation marks! I've been lucky enough to get my hands on a sample of this incredible nectar, and what better way to celebrate my own birthday!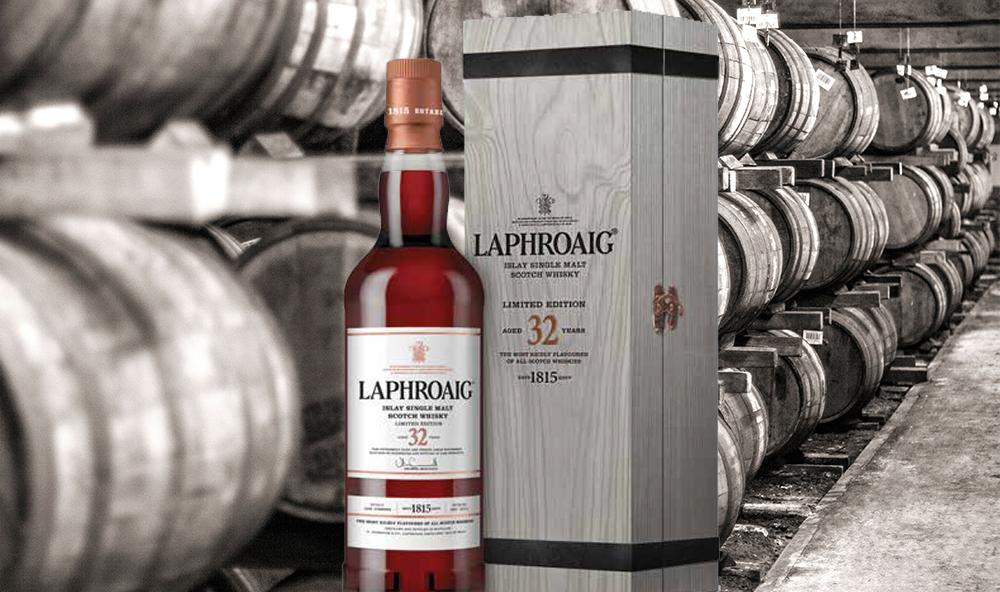 This thing of beauty is one of the oldest whiskies ever released by Laphroaig, which is fantastic enough, but it get's even better! This super-sexy liquid spent all 32 of those years in ex-Oloroso
sherry
casks. Yes, that's right, 32 year old (minimum!), sherry cask Laphroaig, bottled at cask strength. Oh, stop it...
I would say this would be one of the oldest (by age) Islay original bottling's from you can buy today, without having to go to auction or the secondary market. There's a 40yo bottling from Bunnahabhain, which is considerably more expensive than the Laphroaig, and is only 41.7%. And Diageo have no choice when it comes to the age of their annual Port Ellen releases, since the distillery closed in 1983, and of course those are very expensive and very collectible.
While the Laphroaig is a limited release, I understand there was around 6000 bottles produced, which has helped keep the pricing relatively reasonable. Not exactly cheap of course, with an RRP of $1500 AUD, but that's really quite reasonable for what you're getting. And it's selling for considerably higher overseas, which is the opposite of the usual situation here in Australia. Bravo! If I had the sort of disposable income required to sit at this table, I can tell you I'd definitely have a full bottle on the shelf, rather than a sample.
Laphroaig is celebrating their 200th anniversary this year, and this very special bottling is one of the last commemorative releases, along with the
15yo
, the 21yo
Friends of Laphroaig
bottling, the super-rare 2015 Cairdeas, and the travel-exclusive 16yo. What a way to celebrate! Australia was also lucky enough to host legendary distillery manager John Campbell this year, who conducted a number of tastings during his tour, and was even subjected to an
interview
by yours truly! So to wet your Laphroaig whistle with a little insight into the distillery, and a review of one very special Cairdeas bottling, check
this
out!
Just to add a little extra anticipation, let's remember that sherry-matured Laphroaig is quite a rare thing on it's own. I'm a big fan of the 25 yo, and the Triple Wood has grown on me considerably since this early
review
, both of which contain a portion of Oloroso-matured whisky, but this Oloroso-only 32yo bottling is going to be a very different beast. Age may not be everything, but I'm thinking this is going to be one to remember...
Laphroaig 32 yo, 46.6% cask strength. Islay, Scotland.
Fully matured in ex-Oloroso sherry hogshead casks, mix of first & second-fill. Assuming non-chill filtered and natural colour.
Colour:
Copper. Lighter than it looks in the official photos, probably down to lighting.
Nose:
Wow - so fruity, and quite sweet as well! Is this fruit juice? Salty and sweet stone fruit, drying raisins & currants, wet brass / copper, toffee sauce & salted mild nuts (walnut, and maybe almond). More sherry influence develops later on, as does a hint of soft smoke & sweet dates.
Texture:
Lovely. Nice and oily, and no sign whatsoever of any alcohol. Again, this could be fruit juice!
Taste:
Interesting! Lots of spice - wood spice especially. Cologne, spicy and rich, dry peat, and a little chilli. Dried and slightly waxy fruit, more tropical now, a little soap, and a hint of coastal breeze. A good amount of peat influence for the age as well, very nice.
Finish:
Long, with chilli, dry oak and more wood spices. Crumbly peat, a little soapy leather, creamy milk chocolate (but not so sweet). Gets quite soft, but then hangs around for ages, with powdered peat and bitter-sweet dark chocolate.
Score:
4.5 out of 5.
Notes:
Very interesting, and very special! Totally different to the 'standard' 25 yo of course, and worth the extra dollars in my opinion. Very complex and engaging, while also being quite inviting and encouraging. If I'm honest though, I didn't particularly like that cologne note I got on the palate, and I can't recall experiencing that before, but that could be a fluke. Apart from that small chink in it's armour, this is a brilliant whisky, and as is everything Laphroaig touches, it's excellent quality.
They could've easily charged considerably more for this whisky (and put it in some fancy decanter), and it still would've sold like hotcakes, so I commend everyone involved for keeping it within reach of a larger audience. It seems a little understated and straight-forward in it's presentation and marketing, which is refreshing to see. Perhaps that's even a little Islay-like in a way? Like it has nothing to prove. Which it doesn't. I must get my hands on more of this!
If you have the sort of dollars required for entry, find yourself a bottle and buy it. Right now. Or, feel free to send it to me. I'll even call it a combined birthday & Christmas present, so I'm really not asking for much...
A big thanks to champion brand ambassador Dan Woolley for the sample, and a big thanks to Laphroaig, Beam Suntory and CCA for bringing this beautiful whisky into Australia. It's definitely a winner, and I must have more...
Cheers!