I recently had the privilege of attending the Australian launch of Knob Creek Rye Whiskey (yes, the Americans spell it with an E), along with a 3-course meal, and tastings of the aforementioned Knob Creek Straight Rye Whiskey, 9yo Straight Bourbon, and Single Barrel Straight Bourbon. Something a little different for me, and it's no mean feat to get me out of my own suburb mid-week, so this is definitely something worth writing about!
Presented by Dan Woolley, brand ambassador for Beam Suntory, the launch event & tasting was hosted by
Papa Jack's
, a relatively new cocktail bar & restaurant in Brisbane's Fortitude Valley, serving New Orleans / Creole / Southern style food and original cocktails, accompanied by live blues acts on Friday, Saturday and Sunday nights.
Completely new to me, this place won Queensland Bar of the Year in the Australian Bar Awards recently, so it is definitely popular, and I can see why. I'll be back! The relaxed, open, funky vibe, fantastic live blues act and delicious food (think Po Boy sandwiches, Gumbo, Slow roasted American BBQ, etc.)made for an excellent spot to sample some quality Straight Bourbon and Straight Rye American Whiskey.
Before we dive into the tastings, let's have a look at American Whiskey itself, as it's not a subject I've touched on before. While I've sampled other high-end bourbon previously, it has only been at Whisky shows, and when surrounded by so much Scotch Malt Whisky, I've found it hard to devote my full attention to anything else! So, time for a closer look.
Bourbon whiskey must be produced in the USA, must be distilled from grains with a minimum of 51% corn (the remainder usually being rye, wheat or barley), and must be aged in new white oak barrels (which are subsequently sold on, such as to a Scotch distillery), which must be charred inside (basically dunked over an open flame), although there is no minimum ageing period. Straight bourbon, on the other hand, must be aged for a minimum of 2 years, and cannot have anything added to it, such as colouring or flavouring, or neutral spirit. In a similar vein, straight rye whiskey must be aged for a minimum of 2 years, be distilled from grains with a minimum of 51% rye, and aged in new white oak barrels.
The Knob Creek range consists of the 9yo straight bourbon, the single barrel straight bourbon (also 9yo), the straight rye whiskey, and a smoked maple blended straight bourbon whiskey, termed blended because of the added flavouring (not sure about that one, although the smoked part sounds interesting). I haven't tasted the latter, and it likely has not been released in Australia, so we'll leave it out for the time being.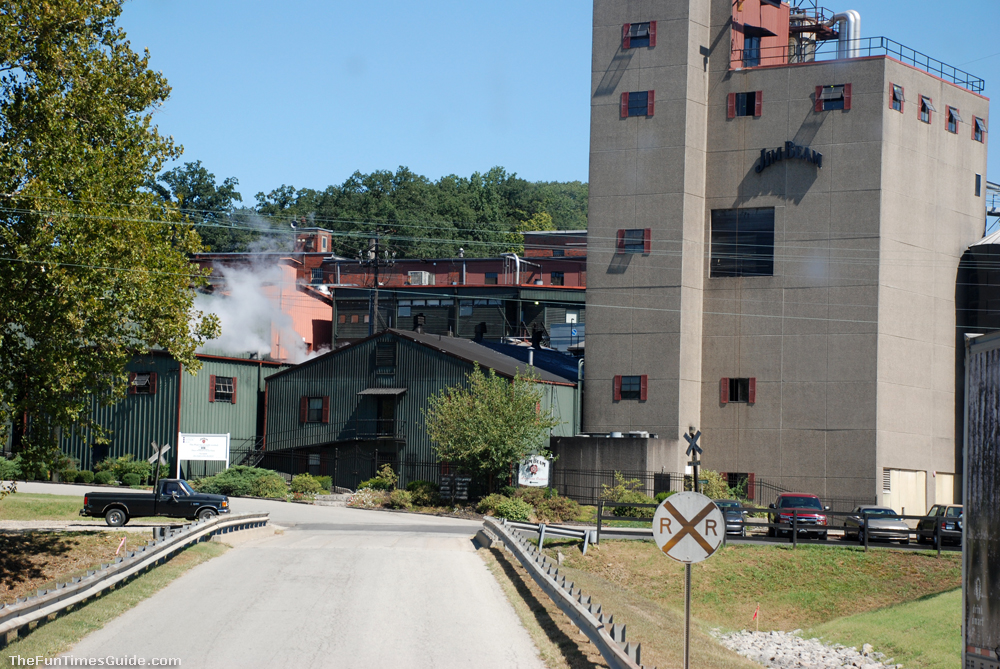 Produced at the Jim Beam distillery in Kentucky, USA, Knob Creek whiskey is part of Jim Beam's small batch range, distilled in a separate building to the more mainstream/mass-produced products. Bottled at higher than usual % ABV (50%, or 100 proof), aged for considerably longer than both (up to 9 years), and aged in heavily-charred barrels (the heaviest char used in whiskey production, termed a level 4 char), the brand is aimed at the high-end American Whiskey buyer. So, enough already, on with the review!
On arrival, guests were handed an original cocktail, crafted by the Papa Jack's crew, containing the Knob Creek Rye, Aperol, an Italian Aperitif, coconut falernum, a sweet syrup, and saline solution, essentially salt water. Although a little sweet for my tastes, this was a great precursor to the coming whiskey and creole food.
Next up was the
Knob Creek Straight Rye Whiskey
, which is bottled at 50%, and although it does not carry an age statement (the label only states it is aged 'patiently'), as we know from the above it must be aged to a minimum of 2 years.
Nose:
Banana, wood, and considerable spice. A little youthful ethanol on the nose.
Taste:
More spice and oak, not overly sweet, and easy drinking at 50%. Water brought out more wood and caramel, and dialled down the spicy notes a little.
Finish:
Short and spicy, a little hot.
Score:
3 out of 5 (American whiskey score)
The Rye was matched with a smoked duck gumbo, essentially a creole-style savoury stew, with rice, smoked duck breast and sausage. The spicy flavours in the whiskey bought out more spice in the gumbo, and the sausage and duck were awesome in their own right.
Next we were presented with the Knob Creek 9yo Straight Bourbon, also bottled at 50%, and aged for 9 years in the heavily-charred oak barrels. This was considerably smoother and more complex than the rye, with a great texture and finish. The extra time in the barrel shows here.
Nose:
Caramel, spices, toasted nuts, a little fruity.
Taste:
More toasted nuts, think walnut and hazelnut. Spiced caramel, sweet oak and grains.
Finish:
The sweetness subsides early, leaving spicy wood and toffee. Long and mouth-watering.
Score:
4.5 out of 5 (American whiskey score)
This was paired with a lightly smoked beef brisket, with Knob Creek whiskey added to the brine, and corn served with a salted whiskey caramel. The brisket was truly delicious, with a nice light char around the outside, a delicate smoke flavour and was very tender. The corn with salted whiskey caramel was a little odd, perhaps a little too sweet with the sauce.
Our final tasting of the evening was the
Knob Creek Single Barrel Reserve
, bottled at 60%, and aged for 9 years in the same level-four charred barrels. This was a big beast of a bourbon, very strong and spirited. I was excited to try this one, as it is
un-chill filtered
, which is quite unusual for an American Whiskey, and indeed it did have a nice haze in the glass when watered down enough.
Nose: Very closed initially, with considerable heat. Water brings out toasted nuts and marshmallow, some mild oak, and a wierd note of generic-flavoured bubblegum.
Taste: Again needs water, brings out some stone fruit, more toasted nuts, and considerable heat.
Finish: Surprisingly short, a little woody caramel sweetness.
Score: 2.5 out of 5
The Single Barrel was matched with a delectable, rich, sweet banoffee pie, with sticky caramel, whipped cream & marshmallow on a ginger biscuit base. The ginger and caramel worked well with the big strong bourbon, bringing out more complex flavours.
As you can see, the standard 9yo was the star of the show for me, well balanced and complex, and easy drinking with a great texture. The new straight rye whiskey was the runner up, with nice wood and spice notes, although I feel it could benefit from a little longer in those heavily-charred barrels. The single barrel was just a little too hot and aggressive for me, perhaps held back by the higher ABV%, even with added water. Normally I would praise a higher-alcohol bottling, but in this case I preferred the standard version.
Our guide for the evening, Mr. Dan Woolley (who I've dubbed the Whisky Lord-aside from the obvious indicator above, he reportedly has one of the largest whisky collections in the country), was a great presenter, relaxed and approachable, preferring to give the thirsty hordes only the essential information, rather than rattling off scripted and rehearsed marketing verses, then opening the floor to keep the audience involved and engaged, while keeping the event moving at a comfortable pace.
Overall the Knob Creek Rye launch & tasting was an excellent event, the venue and quality of meal were excellent, helping to keep the conversation, and the whiskey, free-flowing. It was a great opportunity to try some high-end American whiskey in an American-style environment, and I thoroughly enjoyed the experience, it certainly broadened my whisky horizons, which of course is the name of the game!
A quick thanks to Dan Woolley, Knob Creek American whiskey, and Papa Jack's, for putting it all together. I look forward to the next one!
Cheers.