For part 2 of my (short) 3-part series of blended whisky reviews, I chose something a little less well-known, and certainly less-marketed. Black Bottle blended Scotch whisky has been around since the late 1800's, but has existed in many different styles, and with different components. The version I'm reviewing here has recently been replaced as well, from all reports with an inferior blend (refer to the below photo for clarification).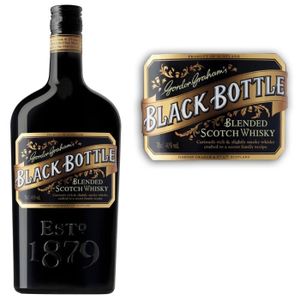 OLD (reviewed here)
NEW
Produced by Burn Stewart distillers, who own
Bunnahabhain
distillery, among others, this version of Black Bottle (so named because older versions were in black glass, or black plastic-coated glass) contains, as stated on the bottle, "A blend of Islay single malts with highland, lowland, and speyside malt and grain whisky". It certainly contains a good amount of
Bunnahabhain
single malt, but the specifics of the other components are a bit of a mystery. While it is a Non-Age Statement bottling, it is believed to contain 7 year old whisky. There have, in the past been, 10 and 15 year old versions, but these are now discontinued.
As we discussed in the
previous review
, Black Bottle is a blended scotch whisky, as it contains a portion of single malt whisky blended with grain whisky. On to the review!
Black Bottle blended whisky, 40%, NAS, Scotland.
Believed 7 years old, added caramel colouring, chill filtered. Unknown components.
(tasted neat)
Colour: Pale gold. Some added caramel though.
Nose: Salty, very maritime-y and briny. Medicinal peat and a little iodine.
Texture: A little thin, but clean and warming. Not bad for a 40% blended scotch.
Taste: Peaty and medicinal, tar, a little smoke, a little bitterness.
Finish: Short and peaty, a hint of ash, then mild honey sweetness.
Score: 3 out of 5 (blend score)
Notes:
A decent blend, certainly one of the best peated blended scotch whiskies (containing grain whisky) I've tried. It would be a good introduction to peaty, medicinal, 'Islay-style' whisky, and at a good price (around $50 here in Australia). As with most blends though, it would be massively improved by increasing the percentage of malt whisky content, higher ABV %, and losing the
chill filtration
. I haven't tasted the new version personally, but I hear it has gone backwards and lost some peat, which is unfortunate. If you come across this version (first choice and vintage cellars usually have it in Australia, but probably not for long), and are after a cheap and cheerful peat fix, grab it.
Cheers!