I recently had the privilege of attending a masterclass for The Macallan, Highland Park and Laphroaig single malts, at the fantastic
Morrison Hotel
in Woolloongabba, Brisbane. Presented by the ever-excellent Dan Woolley, brand ambassador for Beam-Suntory, this was the first 'masterclass' I've attended, and I'm sure it won't be the last.
First off, what is a 'masterclass'? Essentially it is a guided tour of a particular brand of whisky, usually presented in a sit-down classroom/lecture setting, often as part of a whisky festival or spirits trade show, and naturally they include a few tastings. They are generally more in-depth and detailed than your typical whisky tasting, containing more distillery background information, and details on production methods and whisky characteristics. In this case, we had a less-formal format with a fantastic five-course meal, and three different brands/distilleries to explore, with two different expressions of each.


I imagine a masterclass would be quite difficult to present, particularly one such as this, not being tied to a whisky festival or trade show, and featuring whisky from three different distilleries. Why? Because your audience is likely to be a mixed bag, consisting of whisky industry professionals, bartenders and bar owners, dedicated whisky enthusiasts, and curious casual drinkers. While that is a good thing, it must make it tougher on the presenter. Some of the audience may not be at all familiar with whisky, or may have never tasted your particular brand, or (and this would be the worst-case scenario) they may only be there to eat food and drink spirits, and may barely pay attention.
So I imagine it would be difficult to find that balance between not presenting in enough detail for the enthusiast, not presenting from the right angle for the professionals, and presenting in too much detail for the curious. And obviously it would be difficult to choose which whiskies to present to the varied audience. But, as expected, Dan handled this situation just fine, keeping the event light hearted and relaxed, while still engaging the audience and making sure everyone took something away from the evening.
For a bit of serendipity, this masterclass was originally scheduled for November last year, while I was overseas. It was also scheduled on the day of a massive thunder and hail storm here in Brisbane, and was unfortunately cancelled. Well, Dan blamed the weather, but I'm pretty sure he actually rescheduled just so I could attend!
The venue for the evening was the
'Naked Whisky Bar'
at the Morrison Hotel, a slightly eclectic mix of polished wood, whisky, and (tasteful) 'old-time' photos of naked ladies! Their range of whisky (and other drinks) is not to be sneezed at, and Fiasco's steakhouse, in the next room, serves the best steak in Brisbane, in my opinion. Go for the wagyu rump with their you-absolutely-must-have-it mushroom sauce.
Our room was the spacious art-deco style 'piano bar' function room, complete with thousands of photos of naked ladies substituting for wallpaper. Presented with a five course tasting menu, designed to match our whiskies by Dan himself, and with our six whiskies waiting patiently on the tables (the room smelled pretty damn good), it was time to get stuck in!


Starting with The Macallan distillery, from the Highlands, we had the 'Amber' and 'Sienna' expressions from their '1824' series, representing the year the distillery was founded. All five expressions in the series are matured in ex-sherry casks, and are un-peated. Interestingly, The Macallan do not add any artificial colouring to their whiskies, preferring to let the natural colour from the top-quality casks shine through. Good stuff!
The Macallan 'Amber', NAS, 40%. Light and honey-sweet, with a lot of green apple and pear on the nose, lovely medium-dry Oloroso sherry and subtly spicy on the palate, and that light honey sweetness, and a little spirity heat on the finish. Paired with a scallop & chorizo salad, drizzled with a little lemon oil, which matched brilliantly with the whisky.
The Macallan 'Sienna', NAS, 43%. A mix of American and Spanish oak (all ex-sherry). Stone fruit and spiced orange on the nose, syrupy and jam-like on the palate, with some tasty spice coming from that American Oak. Less sweetness than the Amber, and no heat on the finish. Paired with a delicious pulled pork spring roll, and orange & wombok (chinese cabbage) salad.
Next we have
Highland Park
distillery, from the Isle of Orkney. Starting with their standard 12yo expression, then moving to the 18yo. Highland Park only use ex-sherry casks for the maturation of their whisky, and generally
peat
their barley to around 20
ppm
, using local floral, earthy peat.
Highland Park 12 year old, 40%. A little yeasty/new-make and subtle peat on the nose, nice warm, earthy peat and sweet heathery-honey on the palate. Very light smoke on the finish. Paired with a mildly-spicy seafood and sausage gumbo, which was fantastic.
Highland Park 18 year old, 43%. Considerably more European oak used than in the 12yo, and bottled with no added caramel, making it considerably lighter in colour. Extremely subtle smoke with some dark toffee and molasses on the nose, well balanced toffee and earthy peat on the palate with gentle smoke, building up for the finish. Paired with parmesan-crusted lamb cutlets with pea puree and parsnips.
Finally we have (for me) the star of the show,
Laphroaig
distillery from my beloved Islay. It's always interesting to watch peoples' reaction to Laphroaig, with it's very distinctive flavour profile it's a love it/hate it whisky. Personally, I love it, and so did many attending the masterclass. Both of these were paired with our dessert platters, which had freshly roasted honey macadamia nuts, brownies with caramel sauce, a selection of cheeses and more.
Laphroaig 10 year old, 40%. Trademark Laphroaig medicinal peat, iodine, seaweed & smoke on the nose, fantastic acrid smoke, salt and disinfectant on the palate, a little salted caramel and vanilla on the finish. I had not tasted Laphroaig 10 in a while, I tend to go for a quarter cask or PX over it, but I really enjoyed this, it's familiar and distinctive, there is nothing quite like it. Well, except the cask strength 10yo, that stuff is awesome! This went especially well with the blue cheese, which seems to be a rule for most peated Islay whiskies.
Laphroaig Triple Wood, NAS, 48%. Much less medicinal and salty than the 10yo on the nose, more fruity and spicy from the sherry cask finish, but still with a nice dollop of smoke on the palate. I've reviewed this some time ago here and found it disappointing, it's a little too subdued, too gentle for what I like in a Laphroaig. But it was very popular on the night, and I can see why. It was also the only non-chill filtered whisky of the masterclass, and bottled at the highest strength, which are both good moves. The triple wood matched brilliantly with the chocolate brownie and caramel sauce from our dessert platter, although I had to try the combo a few more times just to be sure!
That was the end of the official masterclass, but I hung around long enough for Dan to break out the big boy, the 25yo cask strength Laphroaig. I have had the privilege of tasting this a few times now, and it never fails to disappoint. So completely different to any other Laphroaig, even the 18 year old. Beautifully balanced and refined, gentle and warming. It's not cheap, but it's excellent stuff.
So, what was my pick for the winning whisky? Well, they were all enjoyable whiskies, but I'm going to cheat a little bit and pick something which isn't even whisky, technically. John Campbell, distillery manager at Laphroaig, had sent a little care package to Dan, to help present the masterclass, containing a bag of their peated malted barley (which is delicious, they should be marketing it for separate sale!), and one special little bottle of clear liquid...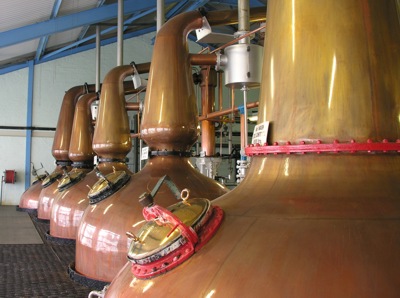 Yes, a small bottle of Laphroaig 'new make' spirit, meaning it's basically straight out of the stills pictured above, at 68%, with no ageing or maturation, or watering down of any sort. Being un-aged, it cannot legally be called Scotch whisky by the rules of the SWA, which dictate a whisky be aged at least 3 years. I had the absolute privilege of tasting and nosing a small amount of this precious nectar, which is an experience not to be taken lightly, given the chances of even seeing Laphroaig new-make spirit, without travelling to the distillery itself, are slim, let alone the chance of nosing and tasting a little of it. 'Thanks' doesn't quite cover it!
How was it? In a word, remarkable! You could be forgiven for assuming an un-aged 'whisky', at 68%, would be very harsh, disagreeable or even un-drinkable. And some/most probably are, but certainly not in this case. The Laphroaig new make is amazingly gentle and drinkable for it's strength and youth, it was brilliantly smoky and peaty, even sweet, and is readily identifiable as Laphroaig. This goes to show the absolute quality and integrity of the distillation process at Laphroaig, and the absolute quality of the resulting spirit. Had the distillation been rushed or had any short-cuts been taken, it would show in the new make spirit, and it just doesn't.
If you're interested, check out the
excellent video
above, featuring John Campbell himself taking you around the distillery and explaining their production methods. Like Laphroaig's peated malted barley, their new-make spirit could easily be marketed and sold on it's own, albeit as a 'new-make spirit drink' rather than a whisky. That's obviously unlikely to happen, but it is fantastic stuff regardless.
Having said that, in the interest of fairness, my winning whisky of the masterclass itself would have to be Laphroaig 10. Although it's not my favourite Laphroaig expression, it's such a distinctive whisky, even among it's Islay brethren, and was perfectly matched with our dessert platter. It's also excellent value for money, although I wish it was bottled at a slightly higher strength, given the scarcity of the cask strength releases (I believe the 10yo is bottled at 43% for some overseas markets). A close second would be the Highland Park 18yo, although these are two very different animals.
All said & done the masterclass was a fantastic evening, the food was exceptional, as I have come to expect from the team at The Morrison, and the masterclass was very well presented by Mr. Woolley, as usual. It was great to see a decent turnout as well, the popularity of whisky is certainly still on the rise, and long may it continue.
Thanks go to Dan Woolley, The Macallan, Highland Park and Laphroaig distilleries, Beam Suntory, and The Morrison Hotel for making this happen. Be sure not to miss out on the next masterclass folks! I'll see you there.
Cheers!