Most of us whisky enthusiasts are familiar with the use of ex-sherry casks in the maturation of our beloved whisky, but how much do we really know about sherry itself? What exactly is it? How is it made? Isn't it that nasty rubbish your grandparents used to add to their cooking?
Let's have a closer look at sherry, taste a couple of varieties, and ponder it's effect on our beloved whisky!
OK, why should I care?
Well, you should care for a couple of reasons, mainly that a bit of sherry exploration will help you pick the sherry influence, and identify more flavours, more accurately, in your next sherry cask-matured/finished whisky. And I'm going to help you impress your friends by helping you pronounce those weird Spanish words!
Sherry is also quite an interesting drink to explore, with many different styles and varieties, and it can be quite good value for money!
What is sherry? And how is it made?
Simply put, sherry is a fortified wine, produced in the 'sherry triangle' in Spain, most famously in Jerez (pronounced 'Heh-reth' - see map above). Sherry is made from three main grape varieties, being Palomino ('Pell-oh-Meen-oh'), Moscatel ('Mosk-a-tell') and Pedro Ximenex ('Pay-dro Heem-in-eth') grapes.
A Fortified wine starts out as wine, and has alcoholic spirit added at some point during production. This was originally done for the purposes of preservation, as the higher alcohol content would help keep the wine stable for a longer period of time. Sherry is fortified with brandy (essentially distilled wine), added to the wine towards the end of fermentation.
50 shades of sherry!
There are quite a few different varieties of sherry produced, depending on things like the region a wine is produced in, the grape variety, and the flavour profile and style (sweet to dry, with grey areas in between).
Sherry cask with transparent lids, showing the air gap and flor layer
Which style the sherry ends up being is dependent on the winemaker's interpretation of it's flavour and texture characteristics, and also something called the 'flor' (pronounced 'floor'). This essentially is a 'cap' or layer of yeast which forms in the intentional air gap at the top of the sherry vessel. The presence and duration of the flor dictates which style of sherry the wine will become, by controlling oxidisation. The flor must be constantly replenished (if it is desired by the winemaker) by adding wine to the vessel, and only it lives under certain conditions.
The main sherry varieties are Fino ('Feen-oh'), Oloroso ('Oll-or-oh-so'), and Pedro Ximenex ('Pay-dro Heem-in-eth'), with a few more in between. The main ex-sherry casks used in whisky maturation are Oloroso and Pedro Ximenex, and some less common styles such as Amontillado ('A-mont-ee-yard-oh') and Manzanilla ('Man-zan-ee-ya'), among others.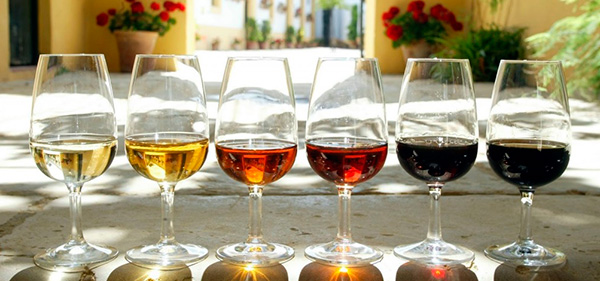 Fino on the left, to Pedro Ximenez on the right
Here are the official styles of sherry, ranked in order of sweetness (in general terms):
Fino
('Feen-oh'): The driest sherry style, produced primarily from Palomino grapes. Bottled at a younger age and lower alcohol to the other styles, and it can only be stored for around a week with refrigeration, once opened. Not often used for whisky maturation, but one example of an ex-Fino sherry cask matured whisky is
Oban distiller's edition.
Manzanilla
('Man-zan-ee-ya'): Very similar to Fino but produced in a particular area of Andalusia (in Spain). In this coastal area the flor yeast cap becomes thicker than it would have further inland, affording the wine better protection from oxygen. This results in a paler colour and fresher, lighter, even saline and chamomile flavours in the sherry. Manzanilla has a similar shelf life to Fino, lasting around a week with refrigeration, once opened. One example of an ex-Manzanilla sherry cask matured/finished whisky is
Ardbeg Ardbog
.
Amontillado
('Ah-mont-ee-yard-oh'): A half-way point between a Fino and an Oloroso, and produced when the flor cap either does not form adequately, or is intentionally killed off during fermentation, whether by fortification (to a certain level of alcohol) or lack of replenishment. This allows slow oxidisation, creating a darker and richer sherry than a Fino or Manzanilla. An Amontillado Lasts up to two weeks with refrigeration, once opened. Another sherry not commonly used for whisky maturation, one example of an ex-Amontillado sherry cask matured/finished whisky is
Laphroaig Cairdeas 2014.
Palo Cortado
('Pale-oh-court-ah-dough'): Another half-way point between Fino and Oloroso, but closer to an Oloroso in flavour, being richer and slightly less dry than an Amontillado. Produced when the flor dies off naturally and without apparent cause. A Palo Cortado then begins ageing like an Oloroso (with higher oxygen contact). The only ex-Palo Cortado cask matured/finished whisky I know of is
Glengoyne 17 year old.
Oloroso
('Oll-or-oh-so'): The most popular style of sherry, it's dark coloured, with rich fruity and nutty flavours, but remains quite dry. Due to it being aged by oxidisation, and being matured for considerable lengths of time, Oloroso sherry remains stable for quite some time, lasting up to 8 weeks with refrigeration, after opening. The most common cask used for whisky maturation, with a couple of prime examples being
Glendronach
(review coming soon!) and
Glenfarclas
, both of which are wholly matured in ex-Oloroso sherry casks.
Pedro Ximenex
('Pay-dro heem-in-eth'), aka PX: The sweetest 'natural' sherry, here the grapes are sun-dried (aka 'raisin-ified') to concentrate the flavours and sweetness. Fruity (mainly raisin) and sweet (molasses or syrup) in taste, very dark in colour and viscous in texture, PX sherry makes for a fantastic dessert wine. Older (30+ years) PX sherries become less sweet and more complex as age increases. A couple of examples of ex-PX sherry cask finished whiskies (and excellent whiskies in their own right) are
Lagavulin distiller's edition
(review coming soon!), and
Laphroaig PX cask
.
Moscatel
('Mosk-a-tell'): Similar in style to PX sherry, Moscatel is another dessert wine, made from Moscatel grapes, dried to concentrate the flavours and sugars, resulting in more stone fruit and caramel flavours, and a lighter colour. One example of an ex-Moscatel cask finished whisky is
Caol Ila distiller's edition.
Cream sherry
('You-can-work-that-one-out!'): Basically a very sweet blended dessert wine, usually Oloroso sherry sweetened with Pedro Ximinez sherry, or even syrup. There are a number of other names used, but all fall under the cream sherry banner, usually because they contain a blend of different sherry varieties. Harvey's Bristol Cream is a good example, being one of the more famous, and top selling, sherries in the world. Cream sherry casks are not used for whisky maturation, at least to my knowledge.
So let's taste some sherry!
I've chosen three styles of sherry for a quick tasting, all from the same genuine Spanish producer,
Barbadillo
, to keep some consistency. It's important to note also that only wine produced in Spain can be named Sherry, in the same way that sparkling wine produced outside of France cannot be named Champagne. The stamp pictured below is the mark found on the label of genuine Spanish sherry.
I've also added some notes on food matching with the three sherries I tasted, enjoyed with tapas / snack / finger foods.
There are plenty of other sherry brands out there, I went for Barbadillo because it was easily accessible, had a good range, and was reasonably priced. I've chosen a Manzanilla, an Oloroso, and a Pedro Ximenez, all of which are good value, being around AUD $10 each for the
Manzanilla
and
PX
in 375mL, and around AUD $17 for the
Oloroso
in 700mL. No doubt they're even cheaper in the US or EU.
Barbadillo Manzanilla
: Pale in colour and very dry, even salty. Fruity and clean, but I'll be honest and say this was too close to a regular dry wine for my tastes. Manzanilla is very close to a Fino, so I imagine a Fino would be similar in flavour. It didn't really float my boat, so to speak. Matches well with nuts and olives.
Barbadillo Oloroso:
Lovely reddish-brown colour, viscous and rich in texture. Dry, but lovely raisin and stone fruit flavours, far more complex than the Manzanilla. Definitely recognisable after tasting an Oloroso-finished whisky. Works very well with cheddar and blue cheeses, pate, and cured meats.
Barbadillo Pedro Ximenez
: Very dark brown colour, richer and thicker in texture, luscious. Sweet, but not overwhelming, a natural, light, fruity sweetness. Raisin and sultana notes, with some christmas cake and spice. Works well with strong cheddar or blue cheese, and fruit mince pies, or any savoury pastry I imagine. My pick of the bunch, especially as a dessert wine.
So, should I bother trying sherry?
I think so! This was an interesting exercise, and certainly helped with picking the sherry influence in an ex-sherry cask matured or finished whisky. The flavours of the Oloroso and PX sherries in particular work very well with whisky, adding a great depth of flavour, and the colour isn't bad either, especially when it's left 'au naturel'!
For further 'reading', try tasting an ex-bourbon cask matured whisky alongside an Oloroso sherry (I chose Glenlivet Nadurra 16yo), and a heavily-peated ex-bourbon cask matured whisky alongside a PX sherry (I chose Laphroaig Quarter Cask). They may not be a perfect match, but it's fun to try, and an excuse to drink more whisky! Speaking of which, here are my top 10 (so far) 'sherry monster' ex-sherry matured whiskies, to keep an eye out for: