There is a lot of anticipative energy in the Ardbeg 'community' at the moment, and with good reason: a new Supernova is coming! To mark the occasion, I thought I would review the last version released, SN2010.
For those of you not familiar with this Ardbeg expression, the first version of Supernova was released back in 2009, and was back then the world's peatiest whisky, at "well over 100ppm". It has since been dethroned by multiple versions of
Bruichladdich's Octomore
. Very peaty indeed, and it won Jim Murray's 'Scotch whisky of the year' back then as well.
The 2010 release I'm reviewing here didn't win Jim's award, but is still a big peaty beast of an Ardbeg. It was actually my second major whisky purchase, after the always-excellent Lagavulin 16yo. My bottle of SN2010 is getting a bit low now, but I won't be replacing it, as it is now selling for well over double what I paid, just those few years ago!
An NAS bottling, this young peat monster, it is thought to be 7-9 of age, to retain the maximum peatiness. As we know, peat levels recede with time during maturation. It is also bottled at a high 60.1%, and is very aggressive and eye-watering without water to calm it (very slightly).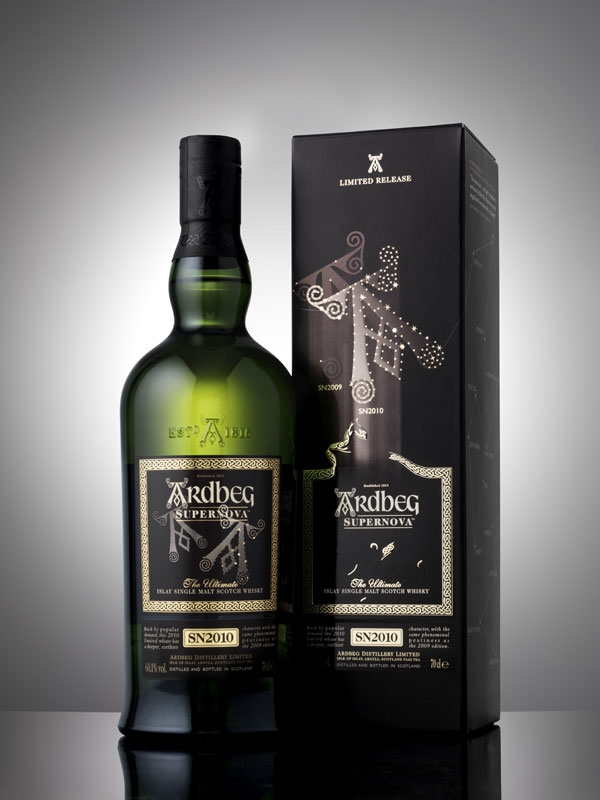 Ardbeg Supernova 2010, NAS, 60.1%, Islay, Scotland.
'Well over 100ppm', thought to be aged 7-9 years in ex-bourbon casks. Non-chill filtered, no added colouring.
(tasted with a few drops of water)
Colour: Light gold.
Texture: Creamy, Oily.
Nose: Masses of peat & salt, some herbal, oaky sweetness. A little heat, even with water. More vanilla sweetness comes through with time in the glass. Not the most complex ardbeg nose, but makes a big impression.
Taste: Huge, creamy, herbal peat. Definitely a peaty Supernova explosion! Salty, sea air, some hot smoked fish, tarred ropes and old grease. Some herbal and vanilla sweetness from the oak towards the end, and a little heat reminding you how young & strong this stuff is.
Finish: Goes on for miles! Miles of never-ending peat, that is. Some more herbs and vanilla, and a hint of thin honey right at the end. One of the peatiest, and longest, finishes I've experienced. Not for the faint of heart!
Score: 3.5 out of 5.
Notes: A little too young and aggressive, and while I haven't tried the 2009 version, I have heard it was quite different in this regard. Definitely a peat monster, and a very good quality whisky, but not on the same level as Ardbegs' Uigeadail and Corryvreckan, in terms of complexity and enjoyment. Certainly much more aggressive than Bruichladdich's Octomore releases that I've tasted, despite the extra couple of years' maturation time, but that's probably down to the different shaped stills.
The new Supernova release, however, promises to be a show-stopper! Down to 55%, which either points to extra water, or extra maturation, or both. But -wait for it- some sherry cask maturation has been used! Could this be a peatier, meatier version of my all-time favourite Uigeadail? Time will tell, but I'm counting the days until it's release next week!
Also worthy of a mention is Ardbeg's space experiment, which is what the new Supernova release is commemorating. Back in 2011, they sent vials of compounds, called Terpenes (basically flavour compounds), and some charred oak, up to the International Space Station, for an experiment. The purpose was to study the differences between oak maturation on earth, and in space (a 'control' set of compounds & oak was kept at their warehouse on Islay). An interesting mission, although the benefits of this are beyond my understanding. This space-travelling Ardbeg experiment returns to earth next Friday, the 12th of September 2014, and the occasion will be marked by the release of this promising new Supernova.
I can't wait to try it, and I'm told my favourite whisky bar,
Cobbler
, will have it available for purchase by the glass. So if you're in Brisbane and you're not sure about buying a bottle of this stuff, head to Cobbler to check it out!
Cheers!