The one that (almost) got away!
Back in mid-2014, Ardbeg released a new 2014 bottling of their super-heavily-peated Supernova line, in Europe and the US. Skip to October/November 2014, when Australia finally received their allocation. The hype had died down, some reviews were glowing, some were mixed. It went on sale for AUD$240, on the Moet-Hennessy website. Expensive,
NAS
, and down to 55% (previous Supernova's were considerably higher), but with some sherry cask influence (the other releases were ex-bourbon cask only). Only a few lucky Australian bloggers had tasted it. I hesitated, I wasn't sure. And within a few days, it had completely sold out. Maybe it just wasn't meant to be, or maybe I had dodged a financial bullet...
Skip to New Year's Eve 2014, at
Cobbler
, and there it is. Ardbeg Supernova 2014, on the list of whiskies we were to taste as part of their NYE package. It was an awesome night, and there were a few whiskies enjoyed either side of the Supernova, so I can't be sure, but at the time I was very impressed with it. Come morning, it was the most memorable dram of the night (only beating the 25yo Laphroaig because it was new, mind you), and I was kicking myself for not buying a bottle a couple of months earlier. I accepted defeat and moved on.
However, thanks to a fellow
Dram Full
member with his finger on the pulse(thanks Zoltan), I received word that a large chain store was getting some 2014 Supernova in the near future. A couple of months later, I received my bottle. It had now cost me $300, but based on my hazy NYE memories, and the fact that it was very unlikely any stores/suppliers in Australia would be getting any more stock, I took the plunge. Given the increase in rarity (and price), however, I haven't opened my bottle yet. Or maybe I'm worried it won't be as good as my hazy memory says it was...
It was meant to be a 'committee release', meaning it was exclusive to the Ardbeg distillery's shop, and online purchase by members of the Ardbeg committee. This also means it doesn't come in a box, which sucks a little. Not one to store near a window, then. Regardless, it ended up being available to everyone in other parts of the world, in stores and on-line. It sold out very fast in official channels, as do all Ardbeg limited releases.
So, this review comes to you courtesy of Craig at
Nippy Sweetie Whiskies
, who generously threw a sample of the 'nova in with my last order. Slainte Craig!
There's been plenty said about the Ardbeg 'space experiment', and I mentioned it
here
in my review of the 2010 Supernova, so I won't go into that. It essentially has nothing to do with this release anyway. It will probably have some impact on Ardbeg's of the future, we'll have to wait and see. Anyway, a new Supernova release doesn't need any further marketing, in my opinion. Particularly one involving some sherry casks. It's exciting enough on it's own!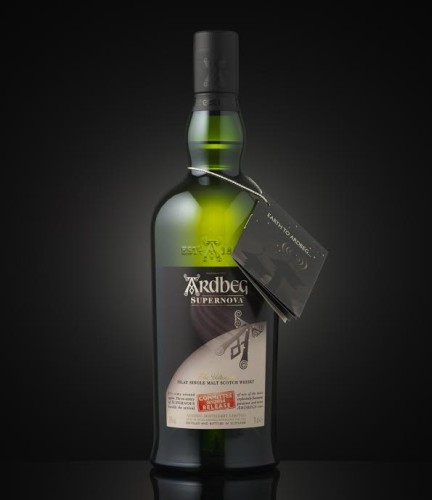 Ardbeg Supernova 2014, NAS, 55%, Islay, Scotland.
Limited 'committee' release, around 100ppm, ex-bourbon and ex-sherry cask matured.
(tasted neat and with a drop of water)
Colour: Pale straw, much lighter than Uigeadail, so probably not a great deal of sherry matured whisky in here.
Nose: Trademark Ardbeg, but with a little extra depth, spice and heat. Salty sea air and fresh seaweed, sharp, slightly sour peat. A hint of spicy oak and salted caramelised butter. A little waxy and medicinal, with some typical Ardbeg sweetness. A little nippy on the nose, but also surprisingly light, not as bold and aggressive as I'd expect from a Supernova. Water brings out some more smoke, but that's about it.
Texture: Big and warming, slightly buttery. Becomes quite creamy with water.
Taste: There's the smoke and peat! Initially quite sweet, then a big wave of peat and a dash of salt. Warming spice and oak. A little heat, but not as pronounced as on the nose. Water cancels the heat and brings much more smoke, and a big dollop of cream. Again, not as aggressive as I'd expect. Interesting...
Finish: Medium length, but softens considerably, and quite quickly. Wood spice, maybe some milk chocolate? A little burnt butter. Peat and sweet oak, slightly saline.
Score: 3.5 out of 5.
Notes: I wouldn't say I'm disappointed, but my mind isn't quite blown. Not as big & bold as the 2010 (I had to check, just to be safe!). Obviously it's 5% down on strength, which is the most likely culprit. But maybe that slight sherry influence has softened it down, or perhaps there's some older stock in this one?
I'm a huge fan of Ardbeg Uigeadail, particularly the slightly older batches, and I prefer those to this Supernova. If they had left the strength a little higher, and injected a bit more sherry influence, this could've become a suped-up (pun-intended) Uigeadail, and that would have been awesome. Maybe that's what they were going for, and missed the mark, or maybe they were trying to tame the Supernova beast a little, and were successful? Who knows.
That said, it's still a very enjoyable Ardbeg. It's a different beast to the earlier Supernova's, and the 'core range', but is that so bad? It's still a very peaty whisky, with plenty to offer, and a different take on the straight ex-bourbon cask peat monster. Was it worth the $300 for my bottle? Probably not. The original release price of $240 was more reasonable, but still a little high. Also, you'd think they could put it in a damn box for that sort of money!
Nonetheless, it's one worth tasting if you can find one (or if you've already added one to your collection). I was very disappointed with the Auriverdes, last year's Ardbeg day bottling, and this 2014 Supernova, being the next new release Ardbeg I've tasted, is infinitely better than that, in every way. I regret buying the Auriverdes at all, to be honest, but I get no such feelings with this Supernova.
Speaking of Ardbeg day, the next one is coming up, on the 30th of May, celebrating their 200th anniversary. The commemorative release has already been announced, it's named Perpetuum (Latin for continuous, as in perpetual motion), as is the current distillery-only bottling, but they are different whiskies, so far as I can determine. Head to your local Ardbeg embassy on the day to try and/or buy it. See you there!
Cheers.