Never heard of Stronachie? Don't worry about it, the distillery hasn't existed for over 80 years, and there are only a few bottles of it's whisky left in existence. No, I'm not reviewing one of those, (this is just a tribute!) But here's what the bottle would look like if I was that lucky:
Modern 'Stronachie' whisky is actually what I would call a tribute, or re-creation, in that it's an independent bottling of a still-operating distillery, but it's been selected for it's similarity to the original Stronachie whisky, which was compared to samples from different distilleries.
Refreshingly, there's no mystery surrounding the source distillery of 'Stronachie' - it's Benrinnes single malt, apparently chosen because it closely emulated the original Stronachie whisky. The independent bottler in this case is A.D. Rattray, who were the Scottish distributors for the original Highland distillery until it's closure in 1928, after just under 40 years of operation.
Benrinnes is a new distillery for me, there have only been a few original bottlings from the current owners Diageo. with the majority of production going into blends. There have been a few independent bottlings as well, but aside from this Stronachie range, they're few & far between.
Benrinnes whisky is 'partially triple distilled', similar to Mortlach and Springbank whiskies. But they have since stopped this practice, so the Benrinnes we see in the future may be quite different. And also like Mortlach, Benrinnes use traditional worm tubs to cool the alcohol vapour coming off their stills. Warning: whisky nerd content ahead!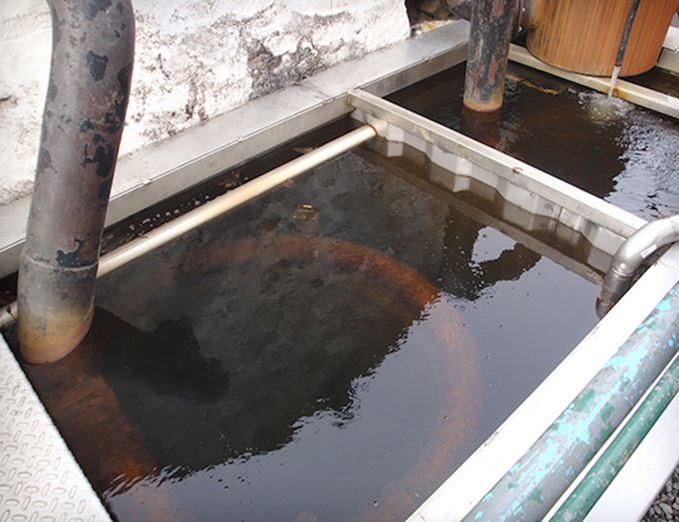 Thanks to scotchwhisky.com for the image
Worm tubs are basically large coiled copper tubes sitting in tubs which contain cold water. As the alcohol vapour runs through the tubes, it cools and condenses back into a liquid. More modern (and much more common) condenser designs use multiple smaller pipes running inside a large water jacket, giving more overall copper contact. Basically with more copper contact, more heavy compounds are removed from the spirit through reactions with the copper.
So distilleries still using worm tubs often retain more heavy compounds in the spirit, in some cases giving a unique meaty or sulphuric quality to the finished whisky, which Mortlach distillery in particular is renowned for. However, since the casks used for this Stronachie re-creation are carefully selected to emulate the Stronachie whisky, we may not find the typical Benrinnes 'house style' in this particular whisky.
Stronachie is produced in small batches and bottled at either 10, 12 (which doesn't seem to be available in Australia) or 18 years of age. Unfortunately I can't find any official word on chill filtration or added colouring, and the fact that the 10 yo is bottled at 43% makes me suspect it would be chill filtered. But the 18 yo I'm looking at tonight is bottled at a decent 46%, and is very reasonably priced for an 18 yo single malt, at only $125 from
Nippy Sweetie Whiskies
, who generously supplied the sample for this review.
'Stronachie' 18 yo, 46%, Banffshire (Highlands), Scotland.
Benrinnes single malt, selected for it's similarity to Stronachie distillery (closed in 1928). Unknown cask types, or whether it's been chill filtered or artificially coloured.
Colour: Pale gold
Nose: Sweet & malty. Honeyed barley, wet grass, dried apricots, sour lemon & green apple. A little nippy as well. Quite young & fresh on the nose actually, not sure I'd have guessed it was an 18 yo at this point.
Texture: Light-medium, juicy. Not as bite-y as the nose suggested.
Taste: More honeyed malt, but not as sweet as on the nose. Fruit syrup, drying grass, dried chilli. A little earthy & herbal as well.
Finish: Short, dried herbs, pepper, malted barley.
Score: 2.5 out of 5.
Notes: A decent whisky, but not really my cup of tea. Quite light and sweet in character, although with a decent mouth-feel. The finish in particular, or rather the lack of a finish, was a bit of a let-down. Not quite what I expected from my first Benrinnes. But like I said above, this one my not reflect the house style, as it's intended to emulate the character of the original Stronachie whisky.
This one would suit a whisky novice of beginner I would say, and it is priced accordingly, especially for an 18 yo single malt at a reasonable strength. And if you're a fan of the lighter, sweeter malts, this one may be more to your liking than it was to mine.
Thanks to
Nippy Sweetie Whiskies
for the sample. Up until the January 17, they are going to be donating 5% of the value of all orders to support the victims of the nasty bush fires happening in Western Australia right now. So if you've been holding off on an order, or you see something you like, now is the time. Not only do you get whisky in return, you'll also be helping to support a good cause. A great initiative from Nippy Sweetie.
Cheers!